News and Events
Paradise Regained
Chaz'z novel Paradise - which treats with miracle healing and religious revival and local crime and council corruption and intentional community in unnamed-city-somewhere-perilously-adjacent-to-Newcastle in the 1990s - is now reissued in mobi and epub formats, via the wonderful Book View Café. A mere $4.99 lays this precious burden in the device of your delight, nicely ready for holiday reading, Chaz suggests optimistically.
(And furthermore, it has a cover by Hugo-Award-winning artist Elizabeth Leggett so.
Read more about Paradise.
---
The full story - in audio
Audible are issuing ten - count them, ten - of Chaz'z books as unabridged audiobooks. They started at the beginning, with Chaz'z first real novel, The Samaritan, but more are in production, and should appear sporadically over the next few months - so look out for them!
The Samaritan is a crime novel, a serial-killer mystery first published in 1983, when this was a novel theme, full of superbly-controlled suspense, richly imagined characters and a hauntingly good sense of place. Publishers Weekly reviewed the original edition, and said: "Skillfully and delicately handled, the depiction of an accelerating, relentless brutality makes this first novel from England an engrossing read... Brenchley constructs a truly chilling thriller, one that is not for the faint-hearted."
Read more about The Samaritan.
---
Bitter Waters wins Lamda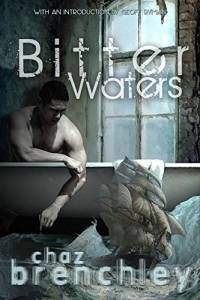 Chaz'z new collection of short stories, Bitter Waters, has won a Lambda Literary Award, in the LGBT SF/F/Horror category.
Chaz was not at the awards ceremony, which was held in New York on 1st June, and there was no provision to send a representative: but he wrote an acceptance speech anyway, kept down to the one minute permitted, and here it is:
"The real reasons I'm getting this award tonight are Steve Berman, my publisher at Lethe Press, who waited literally years for me to get around to sorting out the stories for this collection; and m'wife Karen, who finally sorted out the stories for this collection when it became abundantly clear that I was never ever going to get around to it; and our genius cover artist Elizabeth Leggett, who produced a piece more evocative than it is lovely, more lovely than it is powerful, more powerful than I had any right to hope. Properly, they each get a quarter of this; shamefully, I am keeping the whole thing for myself. (Well, except that I do live with one of the above, so she gets to keep the whole thing too.)
What's more, since Bitter Waters received a starred review in Kirkus Review ("Brenchley's horror is most effective when it's understated, a matter of half-seen apparitions and anxious disorientation; ... A fine collection that imbues fantasy, action and horror with real literary depth.").
Bitter Waters is published by Lethe Press. It is available in paperback from Amazon.com and from Amazon UK.
Read more about Bitter Waters.
---
Being Small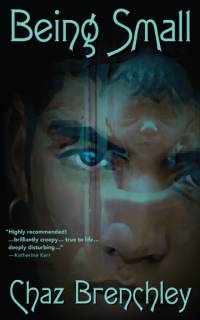 Meanwhile, both new books are gathering rave reviews. Following Publishers Weekly's starred review of Bitter Waters (see below), in the New York Times Book Review, no less, Terrence Rafferty reviews Being Small, and declares it "lovely". "Not much of a truly horrific nature happens in Being Small - Brenchley's tone is quiet, contemplative - but it's intensely dramatic, in the way adolescent problems tend to be, in teenagers' inward eyes. 'It might be war,' Michael announces, 'where only the strong survive.' Brenchley makes this tooth-and-claw battle thrilling."
Katharine Kerr, author of the 'Deverr'y series, says: "Being Small is brilliantly creepy, too true to life to be full-blown horror, but deeply disturbing none the less. What do you do when your imaginary friend turns to evil? And what if, worse yet, he's not imaginary at all? Highly recommended!"
The New York Times Book Review called it a "lovely short novel".
Being Small was published by Per Aspera on August 28th, 2014; like all their titles it is released simultaneously in hardcover, trade paper, and a variety of e-book formats.
---
... and something to read online
Plus a little something to read online:
Chaz'z short story The Astrakhan, the Homburg and the Red Red Coal is now available to read online in Lightspeed Magazine, accompanied by an author spotlight interview about the story and other matters. Lois Tilton reviewed the issue for Locus Magazine, and gave Chaz her "increasingly rare Good Story award".
Something old, something new, something borrowed...
The Astrakhan, the Homburg and the Red Red Coal (otherwise known as "Oscar Wilde on Mars") is part of Chaz'z steampunk Mars saga. If you missed the beginning, The Burial of Sir John Mawe at Cassini was published in the Spring 2014 issue of Subterranean Online. As Chaz explained in his LiveJournal, he has been muttering this last year or so about a work in progress involving Kipling (yes, that Kipling) on Mars. This is where it starts. Where it all starts, this whole outrageous mash-up of Eng Lit and the British Empire and the Red Planet and Chaz. And you can read it now, online.
In a new interview at the Qwillery, Chaz talks about writing, cooking, and his story Afterparty, included in the forthcoming collection Genius Loci. He invites you to "Read, enjoy; gasp at new revelations, or roll your eyes at stories so old they have whiskers."
---