News and Events
Out of the Debauched Sloth
For Chaz'z news direct from the man himself, why not sign up for Chaz'z new neswaletter? Books and cats and recipes, and more as it occurs...
First past the post - read it first.
---
"A midnight feast of a book"
Available now, Dust Up at the Crater School, the second in Chaz Brenchley's ongoing 'Crater School' series, and a sequel to Three Twins at the Crater School.
Christmas is coming to the Crater School, so the girls must celebrate. So says the Earth calendar. But Mars does not respect school rules. Nor does the Red Planet have much respect for Earth weather. Why bother with a white Christmas when Martian weather can be far more dangerous?
Then again, perhaps this is for the best. The people most likely to arrive at the Crater School with snow on their boots are Russian spies.
Dust Up at the Crater School was published by Wizard's Tower Press on January 6th 2022; find purchasing links on their website.
"English girls' boarding-school stories. On Mars."
That was the original elevator pitch for Chaz'z Patreon: a very focused project, to let him write something from the heart that was not likely to prove commercially viable. His lifelong love for the Chalet School books of Elinor M Brent-Dyer is an open secret: one morning that coupled in his head with the Old Mars that he was already writing stories about, and he simply couldn't resist. "If Mars were a province of the British Empire," he argues, "of course it would need boarding-schools for girls (it was already canonical in the stories that boys were sent back to England for their education, but girls were not). Hence the Crater School, on the rim of a crater lake, taking girls from all over the colony, from the great cities of Marsport and New Victoria and Cassini to the pioneer farms on the frontier. With all the concomitant mischief-making, fire and flood, alarms and excursions, encounters with aliens and more. Sickly parents in the sanatorium across the lake. Old girls marrying doctors. Picnics and midnight feasts, secret tunnels and great revelations. Oh, and Russian spies for good measure."
There's more background here about Chaz'z Mars Imperial stories - the Crater School and beyond! Or just head over to Chaz'z Patreon and enrol right away!
---
News from Outremer
Chaz'z agent, John Jarrold, has announced a new edition of Chaz'z classic series, The Books of Outremer, to be published by Wizard's Tower Press in six volumes, beginning in early 2022.
The story opens in in the stronghold of Roq de Rançon, in the north of Outremer, where Marron comes as a novice in the military order of Ransomers, where Julianne comes to meet the Elessan baron she must marry, where Jemel comes as a member of an attacking army and where Elisande comes, but won't say why...
Publisher Cheryl Morgan says: "I read the Outremer series in 2004. At the time, Crusader imagery was regularly utilised in support of the war in Iraq, and depiction of queer relationships in fantasy was still a rarity. Consequently the series was a breath of fresh air in a world just starting to go mad. I'm delighted to be able to bring these books back to the reading public."
John Jarrold adds: "This is a wonderful fantasy series. And I have thought so for many years, because I was the original commissioning editor for Random House UK in the 1990s!"
---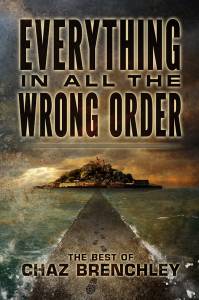 The Best of Chaz
Everything in All the Wrong Order, the Best Of collection of Chaz'z short stories, was published by Subterranean Press on 31st August 2021, and has been gathering rave reviews.
The Table of Contents has now been announced - thirty two brilliant stories of all lenths, plus an introduction by Elizabeth Bear. Publishers Weekly calls Chaz "gifted, prolific" and, in a starred review, says "Every entry enhances creative plots and plausible characterizations with outstanding writing."
---