News and Events
Apparitions
November brings opportunities to hear Chaz talking about and reading from his new books (yes, books, plural - see below) - he'll probably be willing to and , and sign copies too:
Wednesday November 5th, 7.00 pm

Sunnyvale Public Library, 665 W. Olive Ave, Sunnyvale, CA 94086
Telephone:(408) 730-7300 for details.

Sunday November 9th

Borderlands bookstore in San Francisco, with the fabulous Laurie R. King!

Saturday, November 15th, 1.00 - 5.30 pm

An Afternoon of Aliens, Dragons, Magic and Other Worlds
at Kepler's Books, Menlo Park, CA
Book online at Brown Paper Tickets
At 3.30 pm Chaz debates Sci Fi Versus Fantasy: What's the Difference and Which Is Better? with Marie Brennan, Ellen Klages and Pat Murphy. And yes, you'll get to vote!
---
Being Small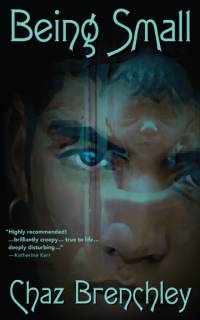 Meanwhile, both new books are gathering rave reviews. Following Publishers Weekly's starred review of Bitter Waters (see below), in the New York Times Book Review, no less, Terrence Rafferty reviews Being Small, and declares it "lovely". "Not much of a truly horrific nature happens in Being Small - Brenchley's tone is quiet, contemplative - but it's intensely dramatic, in the way adolescent problems tend to be, in teenagers' inward eyes. 'It might be war,' Michael announces, 'where only the strong survive.' Brenchley makes this tooth-and-claw battle thrilling."
Katharine Kerr, author of the 'Deverr'y series, says: "Being Small is brilliantly creepy, too true to life to be full-blown horror, but deeply disturbing none the less. What do you do when your imaginary friend turns to evil? And what if, worse yet, he's not imaginary at all? Highly recommended!"
Being Small was published by Per Aspera on August 28th, 2014; like all their titles it is released simultaneously in hardcover, trade paper, and a variety of e-book formats.
---
Bitter Waters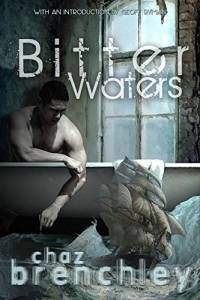 Now available from Lethe Press, a new collection of short stories by Chaz Brenchley with the title Bitter Waters. The cover art is by Elizabeth Leggett (who has published her original version on her website: she says she has never been in Chaz'z bathroom...
Publishers Weekly gave Bitter Waters a starred review, and calls it a "clever and subtle collection".
Bitter Waters is available in paperback from Amazon.com and from Amazon UK.
---
In the Café...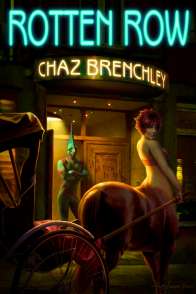 Chaz is interviewed at Book View Café by Katharine Eliska Kimbriel. He answers questions on his many pseudonyms, some recurrent themes in his writing, family, cooking and what he is currently writing - with "a generous pinch of oh-should-I-really-say-that?" (But he does.)
As it happens, Book View Café have just published an eBook edition of Chaz'z SF novella, Rotten Row: this is what Katharine Kerr said about it on Goodreads:
"In the far future, the wealthy and bold -- or the foolhardy -- can planet-hop by means the mysterious Chutes. The Upshot, as they call themselves, leave one body behind and find themselves at their destination in a brand-new body, one chosen randomly, which means they change gender, appearance, genetic heritage as they travel. On the huge orbital station called Rotten Row, however, the rules are different. If you have the cash, you can order up any identity you want.

"This novella is more a meditation on identity and art than the more ordinary kinds of SF. Beautifully written, and crafted by a master stylist."
---
... and something to read online
Plus a little something to read online:
Chaz'z short story, 2 Pi to Live is currently guesting on Splinter Universe. He wrote it as a birthday present for Karen, and, although he has read it in public once or twice, it has never been published before. Read it now, while you can!
And a taster of a larger project: Chaz'z story The Burial of Sir John Mawe at Cassini has been published in the Spring issue of Subterranean Online. As Chaz explains in his LiveJournal, he has been muttering this last year or so about a work in progress involving Kipling (yes, that Kipling) on Mars. This is where it starts. Where it all starts, this whole outrageous mash-up of Eng Lit and the British Empire and the Red Planet and Chaz. And you can read it now, online.
---