News and Events
Book recommendations! Interviews! Short story!
Chaz'z short story The Astrakhan, the Homburg and the Red Red Coal is now available to read online in Lightspeed Magazine, accompanied by an author spotlight interview about the story and other matters. Lois Tilton reviewed the issue for Locus Magazine, and gave Chaz her "increasingly rare Good Story award". The Astrakhan, the Homburg and the Red Red Coal (otherwise known as "Oscar Wilde on Mars") is part of Chaz'z steampunk Mars saga.
Something old, something new, something borrowed...
In a new interview at the Qwillery, Chaz talks about writing, cooking, and his story Afterparty, included in the forthcoming collection Genius Loci. He invites you to "Read, enjoy; gasp at new revelations, or roll your eyes at stories so old they have whiskers."
---
Bitter Waters wins Lamda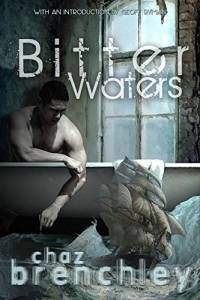 Chaz'z new collection of short stories, Bitter Waters, has won a Lambda Literary Award, in the LGBT SF/F/Horror category.
Chaz was not at the awards ceremony, which was held in New York on 1st June, and there was no provision to send a representative: but he wrote an acceptance speech anyway, kept down to the one minute permitted, and here it is:
"The real reasons I'm getting this award tonight are Steve Berman, my publisher at Lethe Press, who waited literally years for me to get around to sorting out the stories for this collection; and m'wife Karen, who finally sorted out the stories for this collection when it became abundantly clear that I was never ever going to get around to it; and our genius cover artist Elizabeth Leggett, who produced a piece more evocative than it is lovely, more lovely than it is powerful, more powerful than I had any right to hope. Properly, they each get a quarter of this; shamefully, I am keeping the whole thing for myself. (Well, except that I do live with one of the above, so she gets to keep the whole thing too.)
What's more, since Bitter Waters received a starred review in Kirkus Review ("Brenchley's horror is most effective when it's understated, a matter of half-seen apparitions and anxious disorientation; ... A fine collection that imbues fantasy, action and horror with real literary depth.") it automatically becomes a nominee for the 2015 Kirkus Award.
Bitter Waters is published by Lethe Press. It is available in paperback from Amazon.com and from Amazon UK.
Read more about Bitter Waters.
---
Being Small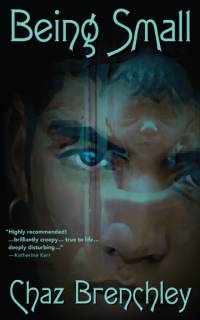 Meanwhile, both new books are gathering rave reviews. Following Publishers Weekly's starred review of Bitter Waters (see below), in the New York Times Book Review, no less, Terrence Rafferty reviews Being Small, and declares it "lovely". "Not much of a truly horrific nature happens in Being Small - Brenchley's tone is quiet, contemplative - but it's intensely dramatic, in the way adolescent problems tend to be, in teenagers' inward eyes. 'It might be war,' Michael announces, 'where only the strong survive.' Brenchley makes this tooth-and-claw battle thrilling."
Katharine Kerr, author of the 'Deverr'y series, says: "Being Small is brilliantly creepy, too true to life to be full-blown horror, but deeply disturbing none the less. What do you do when your imaginary friend turns to evil? And what if, worse yet, he's not imaginary at all? Highly recommended!"
The New York Times Book Review called it a "lovely short novel".
Being Small was published by Per Aspera on August 28th, 2014; like all their titles it is released simultaneously in hardcover, trade paper, and a variety of e-book formats.
---
In the Café...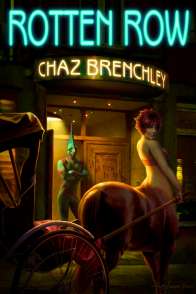 Chaz is interviewed at Book View Café by Katharine Eliska Kimbriel. He answers questions on his many pseudonyms, some recurrent themes in his writing, family, cooking and what he is currently writing - with "a generous pinch of oh-should-I-really-say-that?" (But he does.)
As it happens, Book View Café have just published an eBook edition of Chaz'z SF novella, Rotten Row: this is what Katharine Kerr said about it on Goodreads:
"In the far future, the wealthy and bold -- or the foolhardy -- can planet-hop by means the mysterious Chutes. The Upshot, as they call themselves, leave one body behind and find themselves at their destination in a brand-new body, one chosen randomly, which means they change gender, appearance, genetic heritage as they travel. On the huge orbital station called Rotten Row, however, the rules are different. If you have the cash, you can order up any identity you want.

"This novella is more a meditation on identity and art than the more ordinary kinds of SF. Beautifully written, and crafted by a master stylist."
---
... and something to read online
Plus a little something to read online:
Chaz'z short story, 2 Pi to Live is currently guesting on Splinter Universe. He wrote it as a birthday present for Karen, and, although he has read it in public once or twice, it has never been published before. Read it now, while you can!
And a taster of a larger project: Chaz'z story The Burial of Sir John Mawe at Cassini has been published in the Spring issue of Subterranean Online. As Chaz explains in his LiveJournal, he has been muttering this last year or so about a work in progress involving Kipling (yes, that Kipling) on Mars. This is where it starts. Where it all starts, this whole outrageous mash-up of Eng Lit and the British Empire and the Red Planet and Chaz. And you can read it now, online.
---