[Previous entry: "Pineapple fish"] [Next entry: "IBM" ]
Friends
22 April 2004
Friends are good. Going back to 'Not a day without a line' (and talking of which, just had one - whoops! Do weblogs count?), Stephen offers me this as an alternative - and of course there is such a thing as a pineapple fish. How could I have doubted it? Jean found it for me, and here it is: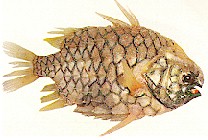 Photo © sea-ex.com
It says in big letters underneath that it should not be eaten, but then it doesn't say why. Grr. Is it poisonous, or just foul? Is it an emetic, or endangered? Or shy? I think we should be told...
---

© Chaz Brenchley 2004
Reproduced here by permission of Chaz Brenchley, who asserts his moral right to be identified as the author of this work.