Writing Fantasy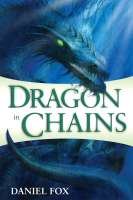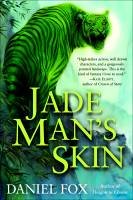 With the permission of Del Rey, Chaz'z US publisher, we are now able to reveal that Chaz'z current fantasy series is Moshui: the Books of Stone and Water published under the name of Daniel Fox.
The first volume, Dragon in Chains was published in January 2009; fantasy author Kate Elliott described it as "a compelling blend of high-stakes action, well drawn characters who I really cared about, and a gorgeously painted landscape," and said "This is the kind of fantasy I love to read." Order Dragon in Chains from Amazon.UK or from Amazon.com.
Volume two, Jade Man's Skin will be published on February 16th; order your copy now from Amazon.com, Amazon.co.uk.
The draft of the third and last volume is currently with Chaz'z agent.
Visit Daniel Fox's web site to learn more.
---
Selling Water by the River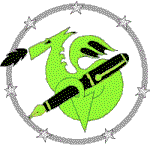 The Write Fantastic was launched in May 2005 as a group to promote fantasy fiction in the same way as the Murder Squad promotes crime: a group of published and professional fantasy writers, finding themselves in danger of being written off as mid-list and hence not worth marketing, coming together to promote themselves, each other and the genre as a whole, to a literary world too ready to dismiss genre in general and fantasy in particular.
Read more about The Write Fantastic on this site or visit visit The Write Fantastic website.
The Books of Outremer
Review of an event at The Lit and Phil, Newcastle
One author in obligatory leather jacket sits in front of select group of groupies and tells them how he does it. The formula is familiar from countless signings, conventions and promotions, but when the speaker is local thriller/fantasy writer Chaz [don't call him Charles!] Brenchley, then the mood is unique. For one thing, the man's trademark combination of terminal laidbackness, mind melting intelligence and inspirational love of language flatters his listeners into instant familiarity. He starts the evening by reading a thoughtful piece on the nature and functions of fantasy literature, but after that he's up for grabs - there's no issue of waiting for question time, as Brenchley's attitude both invites instant comment and incorporates it into his train of thought. Ideas are interspersed with anecdotes, so there's a real feeling of the author as an everyday bloke, who has been known to fall asleep in conferences, to moonlight as a [female) romance writer and to realise in volume three of a trilogy that he got something wrong in volume one, He's written gritty crime laced with the supernatural and fantasy entirely without elves. He's also an engaging and illuminating speaker, and more strength to the Literary and Philosophical Society Library for hosting public events of this kind, that help bring the processes of modern fiction to life.
Gail-Nina Anderson
The Crack, August 2005
Read online
- a tale of the thousand and second night.
Chaz'z speech to the UK-Korea Fantasy Forum, September 2003
Dark / Urban Fantasy Novels
Books for Children
---