[Previous entry: "Seoul"] [Next entry: "Chaz'z Fludde" ]
Chillies
8 October 2003
I have been harvesting, since I got home.
Actually I've been doing many things: buying new software and trying to make the house at least habitable if not exactly respectable, seeing physios and doctors and getting my slipped disc and sciatica diagnosed if not exactly treated, getting caught up with e-mails and messages and post. Which last leads inevitably to work, more and more teaching - at the university this time, another semester on the pay-roll, which I was so going to say no to, sigh - when I really want to clear all of that away and just write the novel. And of course I have been writing the novel, and a column for the BFS newsletter, and other things; and I've done a gig in Durham and agreed to do others in Kent next month, and I've done a talking-newspaper interview to promote a ghost-story reading in Gateshead this month, and, and, and...
But the most fun has been the harvesting, and the cooking that follows as the night the day.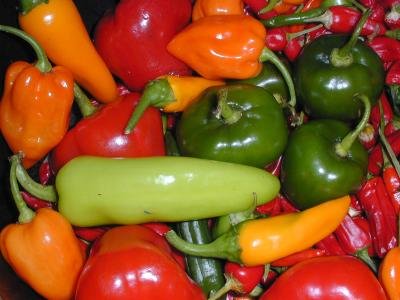 All the chillies are now off their plants, and most are looking gorgeous in a bowl. The rest are tasting gorgeous, in various dishes on the stove or in the freezer or else in memory for those I've eaten already.
I came home also to a glut of tomatoes: most of them ripe, on account of the amazing summer we've had, but inevitably there was a bowlful of green ones, late fruits that were never going to ripen now. So I fried some belly-pork with onions and garlic and a couple of the red mazano chillies (lovely fat red heavy fruits, which utterly defy the general notion of less is more, smaller is hotter: these are fierce), then tossed in some field mushrooms and all the green tomatoes. A pint of water and a couple of handfuls of toor dal (that's a split yellow lentil, smaller than channa dal; don't get the oily kind, because you only have to wash the oil off, and what's the point of that?), and simmer till thick and scrumptious. Ripe tomatoes would have been emollient, but these are sharp, acidic, just what the dish needs. I love it.
---

© Chaz Brenchley 2003
Reproduced here by permission of Chaz Brenchley, who asserts his moral right to be identified as the author of this work.