[Previous entry: "Good day"] [Next entry: "Courgettes" ]
Courgette flowers
28 June 2003
Went out into the back yard this morning (I have almost started calling it a garden), and the courgette-plants were triumphantly ablaze, golden trumpets blaring through the dark green of the leaves. So I looked a little closer, and saw that only some of the flowers were attached to actual courgettes; the rest just had slender stalks. Miserably, I went into town to look at books and find out why all my flowers weren't setting fruit - and learned gigglingly that courgettes have boy-flowers as well as girl-flowers, and only girl-flowers have babies.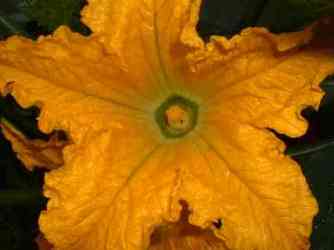 Which meant, of course, as all my girls were pregnant, that I had redundant boys. Which means that at last I get to cook courgette-flowers, which I've been reading about for years and never done yet. Today I chopped one roughly, fried it a moment in butter, added it to parsley and a couple of eggs and made an omelette, light and fresh and lovely. Next time, perhaps a tempura batter and deep-fry, see what that's like; and after that we'll go the stuffing route. I'll report back.
---

© Chaz Brenchley 2003
Reproduced here by permission of Chaz Brenchley, who asserts his moral right to be identified as the author of this work.